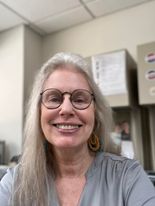 Mary Wright,  Assistant Director
Levich Institute, Steinman Hall, #1M-9
CCNY, 160 Convent Avenue
New York, NY 10031
Phone: (212) 650-8157; Fax: (212) 650-6835
Email: mwright@ccny.cuny.edu
Education:
Master of Public Administration (MPA)  specialty in Higher Education Administration, Baruch College of CUNY, May, 2001
Certificate in Computer Programming with Language Specialty (COBOL), Data Processing Institute, New York University, 1982.
B.A. in Spanish, Eastern Illinois University, Charleston, Illinois, 1977.
University of Granada, Malaga, Spain, Summer of 1971.
Experience:
The Benjamin Levich Institute for Physico-Chemical Hydrodynamics, City College of CUNY, New York, New York (5/90-Present). Assistant Director. Manages all budgetary matters for the Levich Institute, semester seminar management, preparation of technical progress and comprehensive annual reports for numerous research grants, supervision of all full-time and/or part-time clerical staff, assists director as chief administrator of the Institute as well as other faculty in the Institute. Acts as primary liaison with the Research Foundation as well as all college offices and outside vendors. Develops and maintains computer database (in dBase III Plus) of all Institute records in including personnel files, purchasing, inventory, etc. Design and maintenance of Institute website.
Coldwell Banker Commercial Real Estate Services, New York, New York (10/88-4/90). Administrative Manager. Responsibility for management of commerical real estate office in accordance with company policies and procedures. Included recommendation and compilation of data for semi-annual profit plan input, development of DBASE programs to monitor all expenses on a monthly basis to avoid cost overruns, direct hiring and supervision of support staff, accounting review and reporting for office transactions, and formulation of internal procedures to optimize support services to sales personnel and management.
TCF National Properties, Inc., New York New York (4/86-6/88). Office Manager. Major responsibility to coordinate and manage activities related to office operation acting as liaison between staff members and public on matters which arise on a daily basis. Hiring, supervision and review of all administrative staff. Processing all incoming invoices and monitoring expenses in tandem with accounting staff. Expertise on use of all office equipment; maintaining rapport with service personnel and vendors. Training all new administrative personnel in use of Exxon word processing equipment. Also proficient in DBASE III and Lotus for use in keeping up-to-date files on office management (i.e. personnel files, maintenance contract information, purchase orders, invoicing, etc.). Also wrote software for special projects in inventory control and depreciation analysis, sales status reports on coop conversion projects, etc.
McDonnell Douglas Computer Systems Company, New York, New York (6/82-3/86). Branch Administrative Supervisor. Hiring, training and supervision of all administrative staff; management of hardware and software order processing as well as maintenance of daily order status; establishing and maintaining contact with customers and corporate personnel on status of orders; coordinating with sales staff on maintenance of an even flow of paperwork; requisitioning office supplies; approving payments to vendors; interfacing between branch sales and corporate administration; generating monthly booking and revenue, backlog and forecast reports. Creation of delivery and revenue forecast program in DATA/BASIC.
National Economic Research Associates, New York, New York (10/79-3/82). Administrative Assistant. Finalized group research via Xerox 850 word processor; maintained client files, kept track of group project diaries; also had research responsibilities including table generation and computer data entry and retrieval.
Northwestern University, Evanston Illinois (4/74-9/79). Accounting Clerk II. Monitored all research accounts including government and university grants for research conducted in Audiology and Hearing Impairment program; advised faculty of each account status on a monthly basis, recommended account transfers to avoid cost overruns; requisitioned all program equipment and supplies; maintained program files and petty cash funds; coordinated research projects; supervised administrative staff.