Levich Institute Special Symposium Seminar Announcement, 04/16/2019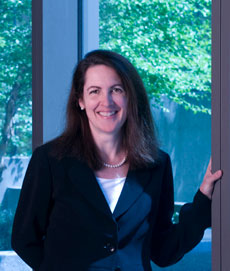 Tuesday, 04/16/2019
2:00 PM
Steinman Hall, Room #124
(Steinman Hall Exhibit Room)
Professor Kate Stebe
University of Pennsylvania
Chemical & Biomedical Engineering
" Bacteria at Fluid Interfaces"
ABSTRACT
Bacteria can become trapped on or near fluid interfaces and display a range of interesting dynamics.  Experimentally, we have characterized bacteria trajectories adjacent to and on interfaces.  Analytically, we are developing descriptions of the hydrodynamic modes associated with these objects, applicable to any active colloid adhered to an interface.  In this talk, I will share recent progress.
BRIEF ACADEMIC/EMPLOYMENT HISTORY:
Kathleen Stebe Is an alumna of the Levich Institute. She is currently the Goodwin Professor of Engineering and Applied Science and the Deputy Dean for Research at the University of Pennsylvania. She served on the faculty at Johns Hopkins University before joining the University of Pennsylvania.
MOST RECENT RESEARCH INTERESTS:
Colloids, interfaces and complex fluids.  Soft Matter.