Levich Institute Seminar Announcement, 11/27/2018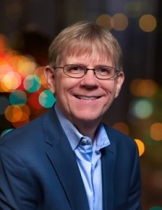 Tuesday, 11/27/2018
2:00 PM
Steinman Hall, Room #312
(Chemical Engineering Conference Room)Professor John T. McDevitt
NYU College of Dentistry
Department of Biomaterials"Platform to Digitize Biological Signatures Using Sensors That Learn Translational Biomaterials and Biosensors Session " 
ABSTRACT
The combination of point-of-care biosensors and machine learning has the potential transform the practice of medicine. In this area, scalable biosensors based on advanced biomaterials have many advantages over standard laboratory methods, including faster analysis, reduced cost, lower power consumption as well as higher levels of integration and automation. Despite significant advances in biomaterials/biosensors technologies over the past two decades, several obstacles remain today that are preventing clinical implementation including: sensor integration has been enormously challenging; these systems fail to compete with remote laboratory testing; these systems typically lack new content that is available through remote laboratories; and, multiple phases of regulatory slow migration of new tests to these potentially portable platforms. Similarly, while machine learning has seen explosive growth in recent years and promises to shift the practice of medicine toward data-intensive and evidence-based decision making, their uptake has been hindered due to the lack of integration between clinical measurements and disease determinations. To help overcome these significant barriers, recently the McDevitt laboratory recently has developed the Programmable Bio-Nano-Chip (p-BNC) system. This platform technology combines unique chem- and biosensing capabilities with powerful machine learning algorithms to provide novel and intuitive single-valued indices across several major diseases. Nano-materials and microelectronics have been coalesced and adapted for the practical implementation of two classes of mini-sensors (bead-based sensors for soluble chemistries and membrane-based chips for cytology). In this talk, recent developments in the p-BNC system will be highlighted. The p-BNC now serves as a 'platform to digitize biological signatures' in which small quantities of patient sample generate immunofluorescent signal on agarose bead sensors that is optically extracted and converted to antigen concentrations. The single-use cartridges with potential to scale to millions to billions of copies are fully integrated, self-contained microfluidic devices containing aqueous buffers conveniently embedded for point of care use. This talk will feature two important case studies for this promising biosensor suite. The first area will summarize the Cardiac ScoreCard, a clinical decision support system for a spectrum of cardiovascular disease, the number one killer globally. The Cardiac ScoreCard approach comprises a comprehensive biomarker panel and risk factor information in a predictive model capable of assessing early risk and late-stage disease progression for heart attack and heart failure patients. The second area will cover new developments for cancer diagnostics, the number two killer globally with particular emphasis on oral cancer adjunctive testing. This second topic has led to the development of a single cell sensor suite and has opened the door the first cell-based point-of-care oncology tool (POCOT) for precision medicine.
BRIEF ACADEMIC/EMPLOYMENT HISTORY
John T. McDevitt serves as the Chair for the Department Biomaterials at New York University College of Dentistry, is a member of NYU's Bioengineering Institute and participates as a faculty member in the NYU Department of Chemical and Biomolecular Engineering within the Tandon School of Engineering. McDevitt is a pioneer in the development of 'programmable bio-nano-chip' technologies. He has a strong track record of translating essential bioscience discoveries into real-world clinical practice. In this capacity, he serves as the Scientific Founder for three diagnostic companies. His most recent company, SensoDx, features a universal platform sensor technology with capacity to digitize biological signatures for a broad range of key health conditions. McDevitt and his team has raised over $45M in Federal and Foundation support. His recent research has been sponsored by major programs funded by the National Institute of Dental and Craniofacial Research (NIDCR) division of the National Institutes of Health (NIH), the Bill and Melinda Gates Foundation, Cancer Prevention Research Institute of Texas (CPRIT), the National Aeronautics and Space Administration (NASA), the Army and the United Kingdom's Home Office Scientific Development Branch.
MOST RECENT RESEARCH INTERESTS:
McDevitt and his team have written more than 200 peer-reviewed scientific manuscripts and have contributed to more than 100 patents and patent applications. This work was recognized with the "2016 AACC Wallace H. Coulter Lectureship Award," "Best of What's New Award" in the Medical Device Category for 2008 by Popular Science as well as for the "Best Scientific Advances Award" in 1998 by the Science Coalition. Dr. McDevitt's individual honors include the Presidential Young Investigator Award, the 2010 California Polytechnic Distinguished Alumni Award and the Exxon Education Award. Over the past 7 years, Dr. McDevitt has served as the Principal Investigator for 6 major clinical trials and 2 clinical pilot studies, all involving the programmable bio-nano-chip. Through these clinical efforts, mini-sensor ensembles are being developed for major diseases in the areas of oral cancer, cardiac heart disease, trauma, drugs of abuse, ovarian cancer and prostate cancer.